Taizen Pedicure Spa w/ basic installation

You will earn 1295 points for purchasing this product.
Product description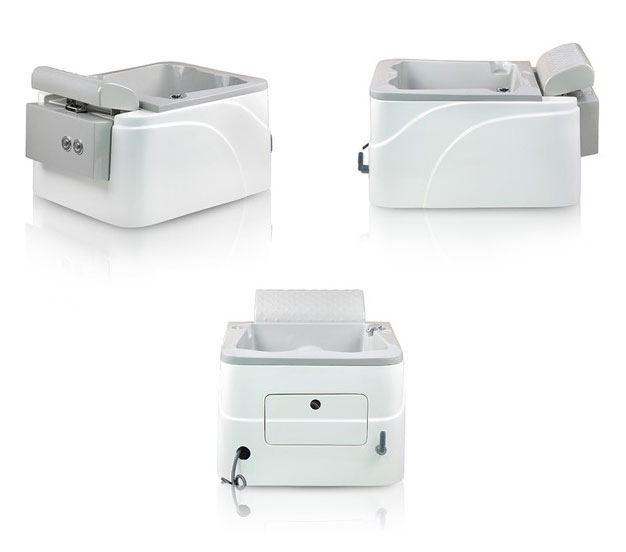 Taizen Port-a-Spa
The Taizen Port-a-Spa is a deluxe portable pedispa that can be moved effortlessly from one workstation to another. This flexible pedicure spa is a wonderful option for salons and spas that have limited space. Easily add more income by offering spa pedicures without expensive investment in a drain system.
Filling and draining your Taizen is easy—To fill the spa with water, connect the spa's fill hose to your faucet, or simply pour water into the spa. To empty, discharge used spa water through the drain hose, either into your sink or by connecting hose to your existing drain system.
The lovely Taizen Port-a-Spa also includes the advanced ANS Liner Jet for soothing, bubbly whirlpool action, and adjustable footrest for added comfort.
Standard Features of Taizen Port-a-Spa:
Portable pedispa, easy to move anywhere
Fill hose (connect to sink faucet)
5/8" Drain hose (discharge used water in sink or connect to existing drain system)
4 durable locking wheels for stability
ANS Liner compatible
Includes ANS liner jet
Lightweight
Adjustable footrest
Space saver—wonderful option for small salons
Spa jet
Spa light
1 push drain button
1 push jet button
Overflow and drain knob
Extended flex drain pipe
Power supply box
Acetone-resistant
Protective gel coating to guard against rust and corrosion
Polished chrome hardware
Removable front and back panels
UL-Certified for safety
1-year warranty
(Shower head and hose, hot & cold water hoses, and control mixer not included)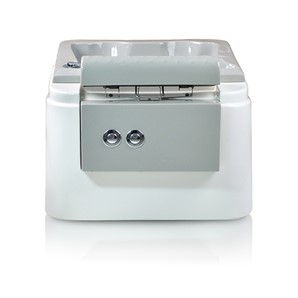 Conveniently Portable
The exceptional flexibility of the lightweight Taizen Port-a-Spa means you have the freedom to offer luxurious, relaxing pedicures almost anywhere.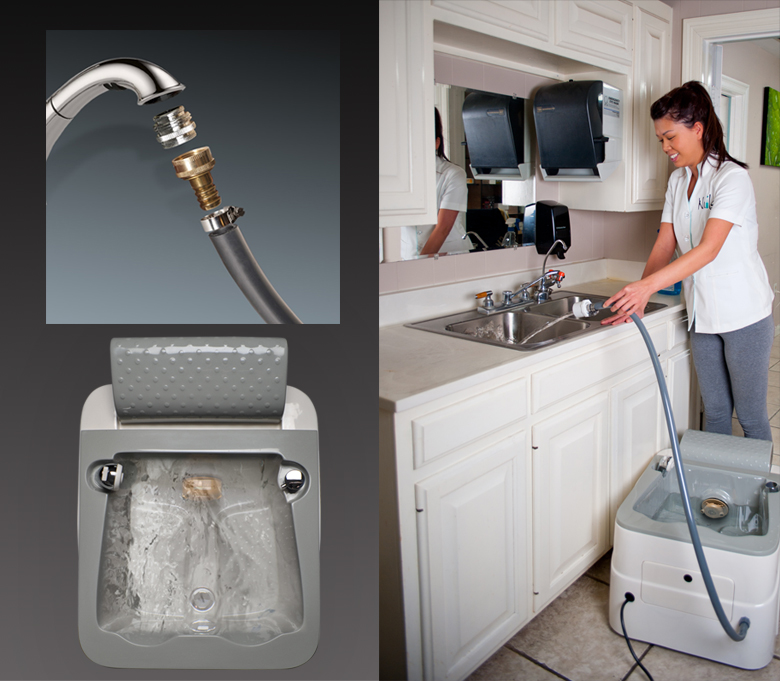 Easy to Fill and Drain
To Fill:
Connect the Taizen's fill hose to your salon's water faucet and fill the tub with water, or simply pour water in from a bucket.
To Drain:
When ready to empty, discharge used spa water through the 5/8" drain hose, either into your sink or by connecting hose to your existing drain system.
Includes ANS Liner Jet
– The Next-Generation of Pedicure Spa Jets
Each ANS spa is equipped with the exclusive ANS Liner Jet. Our pedicure spas utilize state-of-the-art Liner Jet Technology and are compatible with ANS Disposable Liners.
The innovative ANS Liner Jet is damage-resistant, magnetic, pipe-less and easier to use than other jets. The ANS Liner Jet sets new standards for safety and sanitation because of its advanced architecture, pipe-less jet flow, and ease of cleaning.
Make sure your customers receive the safest and most hygienic pedicures with the ANS Liner Jet. Simply snap apart and soak in sanitizing liquid. No scrubbing or cleaning in hard-to-reach areas.
Product information
Total quantity: 1 portable pedicure spa
Designed and assembled in the USA
UL-certified for safety
Dimensions: L 27 x W 21 x H 17 inches
Weight: 60 pounds
1-year warranty
Review