You will earn 7999 for purchasing this product.
Product description
Osaki OS Pro First Class
The Osaki OS-Pro First Class Massage Chair is designed to give you complete control over your massage experience, including the where, what, how, and how intense. This comprehensive massage chair is packed with fully adjustable settings and a smart control system.
Its intelligent 3D massage head is designed for outstanding range and flexibility. You control the depth and intensity with 5 levels of intensity settings. You have manual control function for mode, massage position, width of roller, speed, and 3D, allowing you to fine tune your massage. Calming heat therapy in the lumbar region further enhances the massage.
The Osaki OS-Pro First Class features 3D massage head rollers, zero gravity recline, full body scan, and a total of 23 automatic programs to choose from for a truly first class massage experience. With so many possible customizable settings, programs, and options, the Osaki OS-Pro First Class can offer you the most perfect personalized massage for any need or situation possible.
Features of Osaki OS Pro First Class Massage Chair: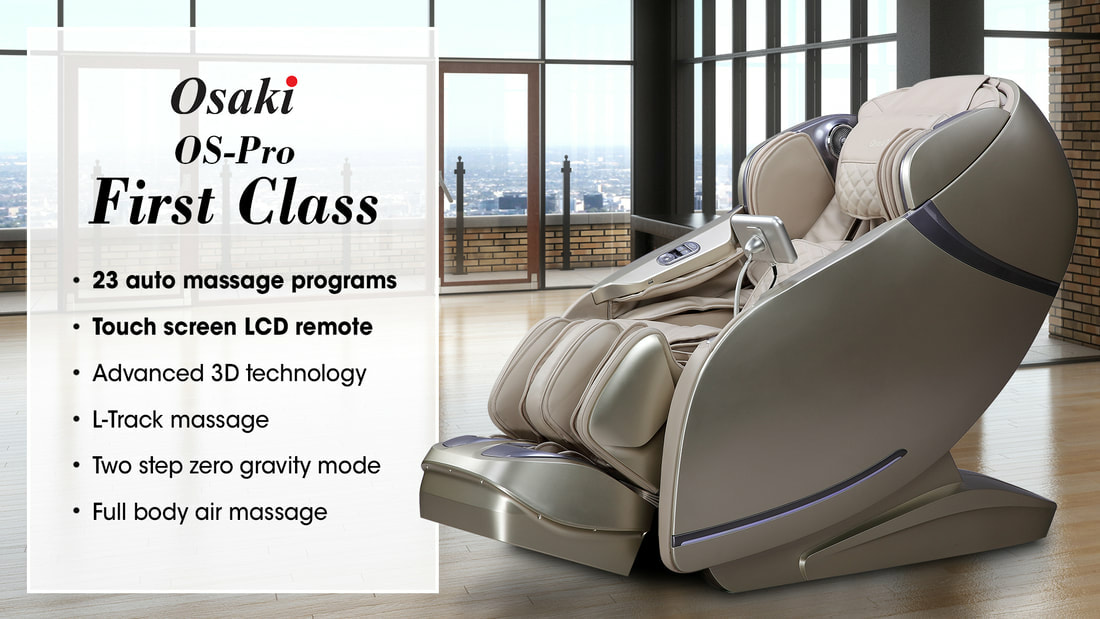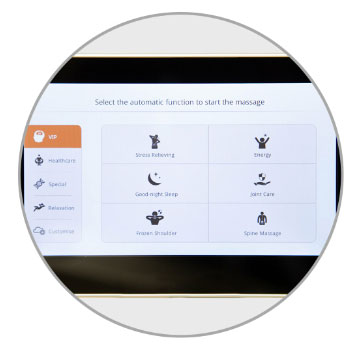 23 automatic programs and 5 manual massage modes.
23 automatic programs divided into 4 categories:
VIP-stress relieving, energy, good night sleep, joint care, frozen shoulder, spine massage;
HEALTHCARE-office regimen, sport recovery, brain refresh, spine care, waist care, legs care;
SPECIAL-heath recharge, meridian treatment, keep fit, bottom toning, restoration massage, tiredness relief;
RELAXATION-full body stretch, Thai massage, Chinese massage, total relax, airbag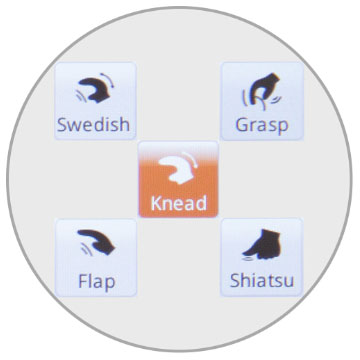 5 manual modes to pinpoint a desired massage for a specific spot on the back or section of the body: Kneading, Flapping, Swedish, Grasping, Shiatsu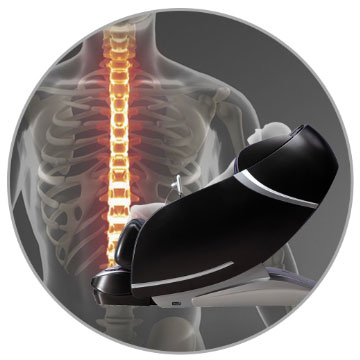 Body scan technology
Performs a full body scan to map key areas of the neck, back, and shoulders to ensure consistent pressure during the massage. The body scan also maps the key acupressure points for the best therapeutic massage.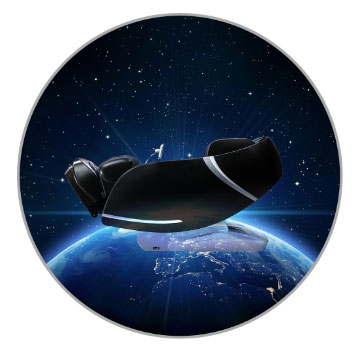 Zero Gravity and heat therapy to maximize comfort and relaxation
Inspired by NASA technology, the Zero Gravity position is the perfect position to enjoy a massage, aligning and supporting your back in a position that maximizes the intensity of the massage and provides an optimal level of comfort. The OS-Pro First Class has 2 carbon fiber infrared heating pads located in the back area, using heat therapy to increase circulation and enhance relaxation.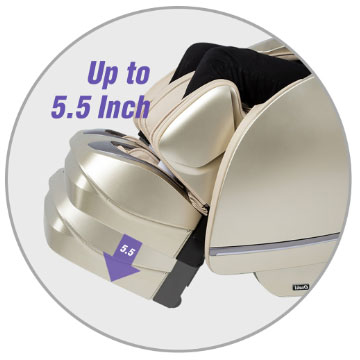 Ergonomic space-saving design
Slides forward as it reclines so it only needs 1.5" from the backrest to the wall, making it easy to find a space for it in your home or office.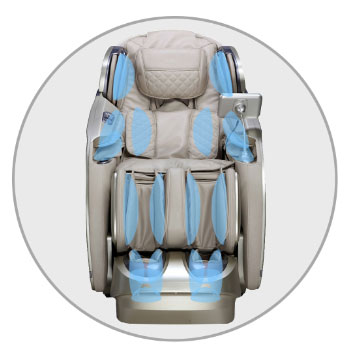 Full body massage
Performs a thorough, all-over body massage for the ultimate in relaxation. Massages and attends to all major areas, such as the neck, outer shoulders, arms, back, thighs, seat area, calves, and feet.
Additional features
SL-track technology; negative ionization therapy; touch screen tablet remote; extendable footrest up to 5.5"; Bluetooth speakers; USB charger; quick controls; 5-40 min. auto timer
Quantity:
1 Osaki OS Pro First Class massage chair
Product information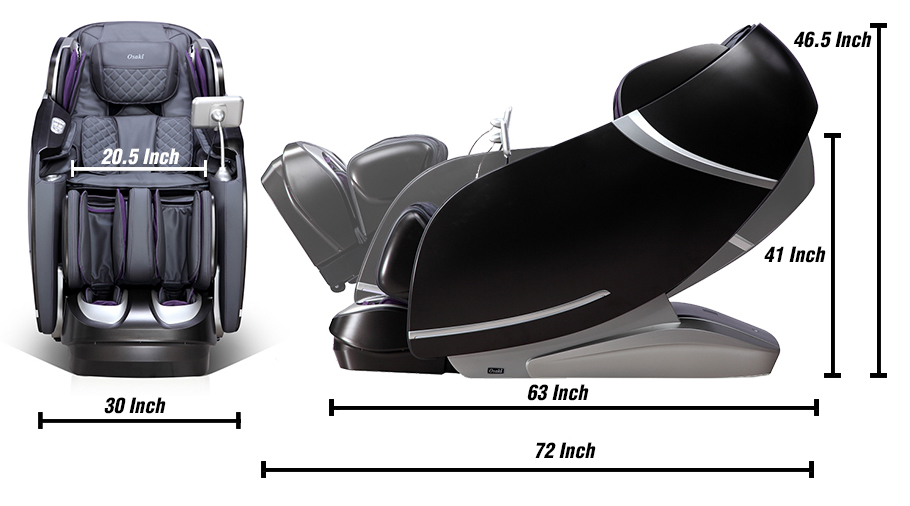 | Name | Massage Chair |
| --- | --- |
| Model | First Class LE |
| Rated Power input | 220W |
| Rated time | 20Min |
| Rated voltage | 110-120V~60Hz / 220-240V~50Hz/60Hz |
| Safety Structure | Class I |
| GW/NW | 253 lbs / 311 lbs |
| Maximum Weight of User | 260 lbs |
Review