DreaMau Polish Machine Kit
Special Price
$2,499.00
was
$2,999.00
BUY 1 DreaMau Polish Machine Kit GET 1 Dreamau Machine Cabinet Display-White FREE

You will earn 2499 for purchasing this product.
Promo ends : 12/31/2020
Product description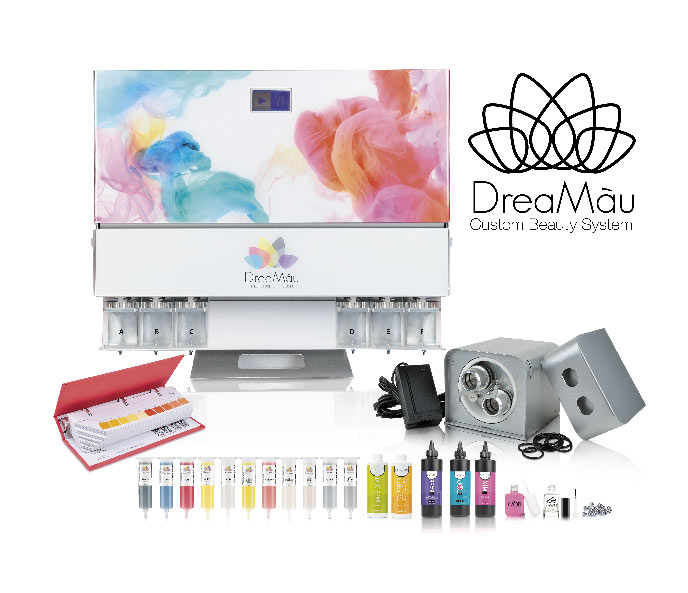 DreaMau Polish Machine Kit—The Future of Nail Polish
The DreaMau is the only machine in the world capable of creating instant custom nail polish and gel colors, any color a client requests, right in your salon.
The DreaMau Kit includes everything needed to create richly pigmented, customized nail polish and gel shades. Choose from thousands of shades in a great variety of tones and textures. For the first time, you choose and produce the exact shade you want, in just a few short minutes!
DreaMau Polish Machine Kit Includes:
1-DreaMau Machine 110/220V
1-Dreamau Polish Shaker Machine
1-DreaMau Polish-Black-67 ml
1-DreaMau Polish-Blue-67 ml
1-DreaMau Polish-Red-67 ml
1-DreaMau Polish-White-67 ml
1-DreaMau Polish-Yellow-67 ml
1-DreaMau Effect-Glitter-67 ml
1-DreaMau Effect-Metallic-67 ml
1-DreaMau Effect-Neon Red-67 ml
1-DreaMau Effect-Neon Yellow -67 ml
1-DreaMau Effect-Pearl-67 ml
1-DreaMau Effect-Shadow-67 ml
1-Beyond Polish Base Coat 8 oz
1-Beyond Polish Tougher Top Coat 8 oz
1-Beyond Gel Mix 8 oz
1-Beyond Gel Base 8 oz
1-Beyond XP Gel Top Coat 8 oz
48-DreaMau Complete Glass Bottles 11 ml
12-Pink Coated Empty Gel Bottles 0.5 oz
1- DreaMau Poster (18 x 24)
100-Stainless Steel BB Balls
1-DreaMau Color Chart Booklet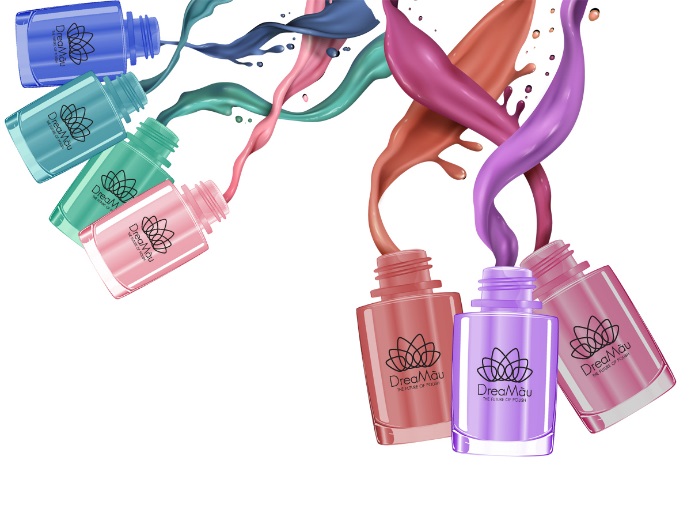 Customize Your Own Polish and Gel Shades
More than 100,000 possible color and texture combinations.
Match brand name shades, or create your own customized shades.
The possibilities are endless. Try it to believe it!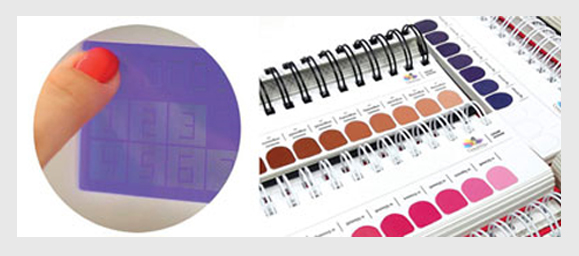 DreaMau Color Booklet
Kit includes color chart booklet with approx. 400 shades.
Create a perfectly matching polish and gel pair.
Use the color charts to perfectly match the shade of your shoes, lipstick, dress, or other accessory.
Easy to use—choose the exact shade and texture in the color chart booklet and enter the accompanying code in the DreaMau Machine.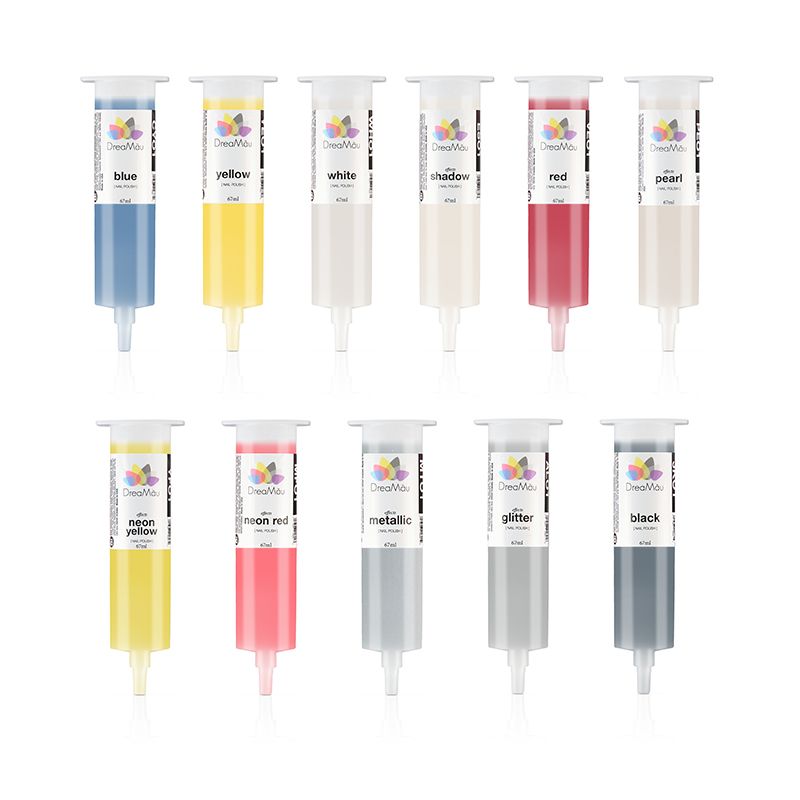 Gorgeous Effects
Six stunning effects to choose from:
Metallic
Pearl
Shadow
Glitter
Neon Yellow
Neon Red
With the DreaMau, you have complete control over both the color and texture of your polish or gel.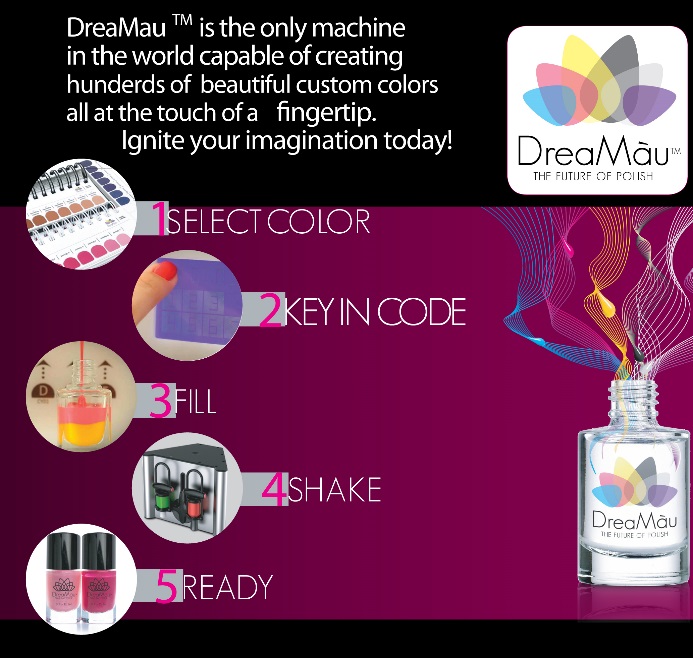 Easy to Use, Mesmerizing to Watch
After entering the color code in the DreaMau, simply follow the directions on the screen.
Create a bottle of polish or gel exactly matching your desired shade and texture in just a few minutes, completely ready to apply.
Use Beyond Tougher Top Coat, a strong and high-gloss top coat, to extend the life of your custom polish or gel for up to 2 weeks.
Product information
DreaMau Polish Machine Kit includes:

1-DreaMau Machine 110/220V
1-Dreamau Polish Shaker Machine
1-DreaMau Polish-Black-67 ml
1-DreaMau Polish-Blue-67 ml
1-DreaMau Polish-Red-67 ml
1-DreaMau Polish-White-67 ml
1-DreaMau Polish-Yellow-67 ml
1-DreaMau Effect-Glitter-67 ml
1-DreaMau Effect-Metallic-67 ml
1-DreaMau Effect-Neon Red-67 ml
1-DreaMau Effect-Neon Yellow -67 ml
1-DreaMau Effect-Pearl-67 ml
1-DreaMau Effect-Shadow-67 ml
1-Beyond Polish Base Coat 8 oz
1-Beyond Polish Tougher Top Coat 8 oz
1-Beyond Gel Mix 8 oz
1-Beyond Gel Base 8 oz
1-Beyond XP Gel Top Coat 8 oz
48-DreaMau Complete Glass Bottles 11 ml
12-Pink Coated Empty Gel Bottles 0.5 oz
1- DreaMau Poster (18 x 24)
100-Stainless Steel BB Balls
1-DreaMau Color Chart Booklet

Dreamau Machine dimensions: L 26 x W 3 x H 20.5 inches
Dreamau Machine voltage: 110-240 V amp 50/60 Hz
One-year warranty (DreaMau Machine and Polish Shaker)
Review