Artelli Bench Pedicure Spa w/ Basic Installation

You will earn 3000 points for purchasing this product.
Product description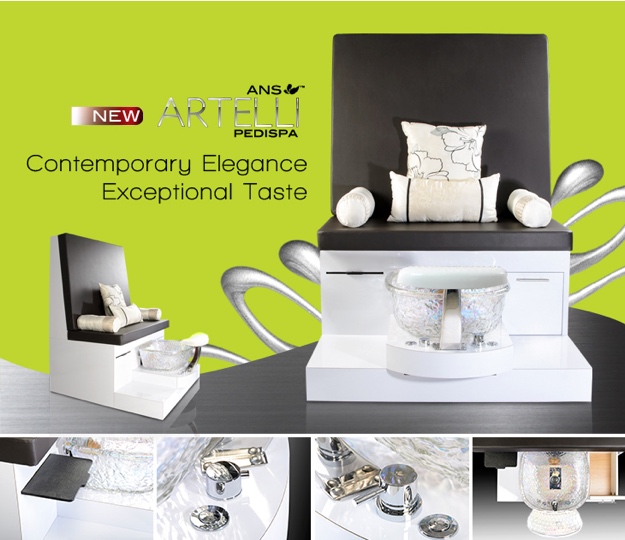 Artelli Bench Pedicure Spa
The Artelli Bench Spa is a grand and beautiful bench pedicure spa that allows your client a generous amount of space to stretch out and relax. Your customers will be impressed when they approach this stylish, unique spa.
Our beautiful wooden pedicure spas exceed all standards to give you the finest wooden spas, crafted in your choice of laminate. To ensure your spa stays beautiful for years to come, each wooden spa is acetone-resistant, moisture treated, and termite resistant.
Each Artelli is custom designed with your chosen laminate color and an elegant glass sink bowl in the style and color of your choice.
Features of Artelli Bench Pedicure Spa:
Custom-made wooden bench in your choice of laminate
Your choice of gorgeous Glass Sink Bowl or Onyx Sink
Vents
White footrest
Pull-out drawer for convenient storage
Pull-out tray
Polished chrome hardware
Stainless steel shower hose
ANS Liner Jet
Built-in LED color therapy light
FREE matching pedicure stool
More options for customization available upon request
(*pillows not included)
This luxurious spa is available as a single, double or triple unit
In addition, optional drain pumps are available and can be installed onto your spa.

Your Spa, Your Design
Built Your Way!
Each Artelli is custom-made with your choice of custom wood-laminate colors.
Each spa is handcrafted by our expert carpenters according your details and specifications.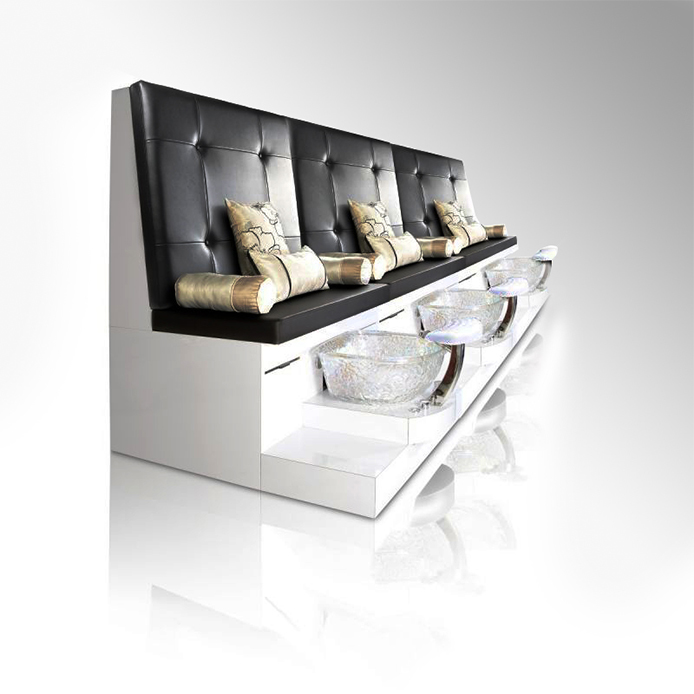 The Artelli is available as single, double or triple units.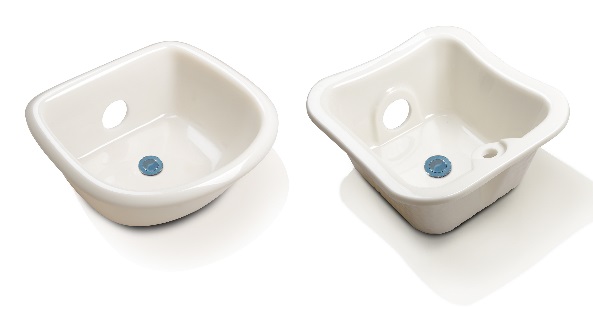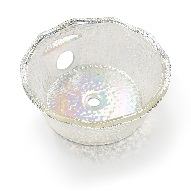 Pair with any Glass Sink or Onyx Sink
Our beautiful glass sinks are ¾" thick provide eye-catching displays of color when used with the built-in LED color therapy lights included with each spa.
Glass Sink
Choose from many styles, each available in multiple colors:
Round
Square
Scallop
Annulus
Lotus
Onyx Sink
Lovely and delicate ivory toned sink featuring a classic, simple beauty and curved corners.
Available in round and square
ANS Liner Jet
The Next-Generation of Pedicure Spa Jets
Each ANS spa is equipped with the exclusive ANS Liner Jet. Our pedicure spas utilize state-of-the-art Liner Jet Technology and are compatible with ANS Disposable Liners.
The innovative ANS Liner Jet is damage-resistant, magnetic, pipe-less and easier-to-use than other jets. The ANS Liner Jet sets new standards for safety and sanitation because of its advanced architecture, pipe-less jet flow, and ease of cleaning.
Make sure your customers receive the safest and most hygienic pedicures with the ANS Liner Jet. Simply snap apart and soak in sanitizing liquid. No scrubbing or cleaning in hard-to-reach areas.
Improve the efficiency of your salon with ANS Spa Auto-Fill
ANS Spa Auto-Fill is an optional pedicure spa control system that can be installed onto your pedicure spa.
This wonderful system allows pedicure technicians to manage all functions of the spa in one convenient control mechanism.
ANS Spa Auto-Fill controls the jet, the drain, LED light, the shower hose, and the automatic water fill sensor.
ANS Spa Auto-Fill also detects water levels of the pedicure spa and automatically shuts off the water faucet, saving time and money; a smart and beneficial option for busy salons.
Product information
Total quantity: 1 pedicure spa bench with matching mani-pedi stool
Dimensions (L x W x H) : 52 x 46 x 64.5 inches
Shipping weight: 330 pounds
Mani-pedi stool dimensions: Min-D 14.75 x 13.4 inches (to seat) (22 inches total height); Max-D 14.75 x 15.9 inches (to seat) (24.5 inches total height)
Designed and assembled in the USA
UL-certified for safety
Pre-installed with essential plumbing and pipe fittings—ready to connect to water supply
One-year warranty
Review