Alfalfa Liner Jet (Magnet) Wet End

You will earn 65 points for purchasing this product.
Product description
Wet End part for Alfalfa Liner Magnet Jet. The revolutionary ANS Liner Magnet Jet (ALJ) is an exclusive pedicure spa jet from Alfalfa Nail Supply. This strong, yet gentle spa jet sets new standards for safety and sanitation while providing the soothing whirlpool effect that customers love. The ALJ easily sets itself apart from other spa jets on the market with its superior quality, sturdy design and advanced architecture.This pipeless, magnetic, strong-pulse spa jet is made with special nylon-glass fibers that give each jet increased impact-resistance and durability, so it won't crack or break like other jets. It is also much easier to clean and sanitize than older model jets—thanks to its pipeless design, simply snap apart, drop into sanitizing liquid, and let soak overnight. Customers can enjoy a comforting pedicure without worrying about bacterial infections or contaminations. The ANS Liner Magnet Jet is also compatible with disposable pedicure spa liners for additional peace of mind and protection against bacteria.
Features of Alfalfa Liner Magnet Jet-Wet End:
Wet End only for Alfalfa Liner Magnet Jet (ALJ)
Safe and Sanitary
Pipeless design is easier to clean and sanitize than older jets (simply snap apart and drop into sanitizing solution)
Gentle yet powerful jet power angled at feet
Produces soothing, bubbly whirlpool action
Compatible with disposable spa liners
Engineered with durable nylon-glass and won't crack or break
Impact resistant up to a 5 feet drop
Acetone and rust-resistant
1-year warranty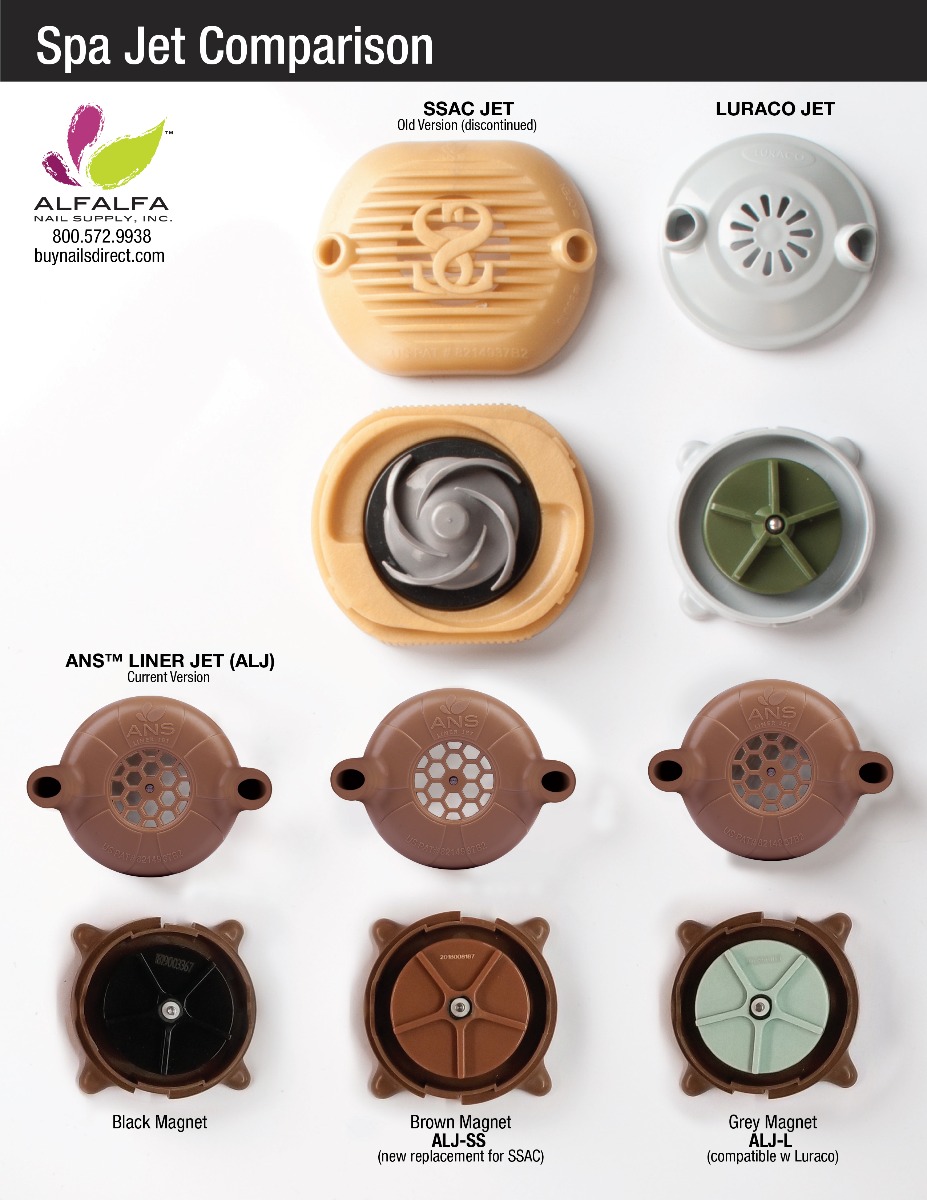 Product information
Total quantity: 1 ALJ-wet end (only)
Dimensions: 3.25 x 2.5 x 1.1 inches
Review